The Covered Bridges of Madison County are some of the most iconic and popular tourist attractions in the Midwest. These bridges, built in the late 1800s, are a beautiful sight to behold.
While most of the bridges are now closed to traffic, they are still open to pedestrians and provide a wonderful opportunity to take a leisurely stroll through the countryside.
We'll tell you everything you need to know about visiting the six Madison County covered bridges.
We'll also go over traveling to other Bridges of Madison County filming locations, including the iconic diner and picnic spot. Trust us; it's well worth the trip!
An the end, we'll give you a quick rundown of additional things to do in Winterset, Iowa, which includes John Wayne's birthplace, historical attractions, museums, parks, and wineries.
What Are The Covered Bridges, And What Is Their Purpose?
A covered bridge is a bridge with a roof and surrounding sides that protects the road beneath. Most historic bridges in the United States were timber-truss structures with a wooden cover and siding.
Covered bridges served the same purpose as any other bridge, but they were covered to keep the expensive flooring timbers from rotting.
Covered bridges were constructed in the United States until around the turn of the century when they began to decline in popularity. There were over 10,000 covered bridges in the United States at one time!
These bridges aided with travel, settlement, trade, and growth during a rapidly expanding period when America was becoming more mobile.
Bridges of Madison County (The Movie and the Book)
The bridges are all historically significant and were added to the National Register of Historic Places in the 1970s. However, after Robert James Waller's book The Bridges of Madison County was published in the 1990s, their popularity as a tourist attraction rose.
The book recounts the story of an Italian-American housewife named Francesca who has a brief but life-changing encounter with a National Geographic photographer while traveling through rural Iowa in 1965.
When a movie version of The Bridges of Madison County hit screens in 1995, the covered bridges became even more well-known. Clint Eastwood and Meryl Streep were cast as Robert Kincaid and Francesca Johnson, two lovers who reunite after 15 years apart. Most of the filming for the film was done on-site in Madison County.
Planning Your Visit to the Bridges of Madison County
Here's all the essential information you'll need to organize your trip to see the covered bridges in Madison County. We also include some historical background for those unfamiliar with these bridges.
Where are the Bridges of Madison County?
The bridges are located in Madison County, Iowa, and the largest town in the county is Winterset, Iowa. The bridges can be found all around this area, with the majority on rural roads.
Winterset is about 30 miles southwest of Des Moines and 52 miles from Decatur City, Iowa.
How to get to Madison County, Iowa?
The quickest way to get to Madison County is by car. The bridges are in and around Winterset and St. Charles, Iowa, so you can easily drive to one of these towns to start your tour of the bridges.
I'd recommend stopping by the St. Charles Welcome Center to get your bearings.
How Long Will it Take me To See the Bridges?
If you go by car, the drive between the six bridges takes about one hour without stops. I'd allow at least 2.5 hours for all of the bridges with 15-minute stops every half-hour or so.
Insider Note: You will need to drive on gravel or dirt roads to reach three of the covered bridges: Roseman, Hogback, and Holliwell.
You can check out the suggested driving or cycle route here.
How to Find the Bridges of Madison County?
Stop by the St. Charles Welcome Center to pick up a local map. The bridges are well-marked with signs.
Note that most bridges are closed to vehicular traffic, but you can walk across them.
Cost to Visit the Bridges?
Covered bridges in Madison County are FREE to see. A small free parking area is available close to all of the bridges.
Can I Drive Through the Covered Bridges of Madison County?
Cedar Bridge is the only bridge that can support and allow vehicle passage. The new Cedar Bridge was completed and put into operation in 2019, and people can walk or drive across it.
Best Time to Visit the Covered Bridges in Madison County?
You can visit the covered bridges and most other local attractions year-round, so there is no wrong time to visit. The best time depends on what you want to do. The summer will be hotter but potentially wetter, and the winter will be drier but colder.
The Covered Bridge Festival is one of the most popular festivals in Iowa. Fall is a particularly good time to visit Iowa, and many people like to go during the Covered Bridge Festival (see below).
Guided Tour
If you'd like to learn more about the covered bridges and the surrounding area, you can also do a 2-hour guided tour from Winterset to the bridges and other local attractions with a local guide.
When is the Covered Bridge Festival?
Every year, the Covered Bridge Festival in Madison County commemorates the area's long history and heritage. It is usually held on a weekend during the second full week of October.
You can get up-to-date information on next year's festival by visiting their website! here. In 2022, the Covered Bridge Festival will be held from October 8th to 9th. On both days, events will take place from 9 am until 5 pm.
The event has evolved over time, but it generally includes historical re-enactments and demonstrations, guided tours of the historic bridges, music, a parade, quilt exhibitions, classic car shows, and a variety of food, antiques, and craft booths.
There are also complimentary tractor shuttles. There is a small entrance fee to enter the main festival area ($2 per person in 2022). Children aged 11 and younger are free to attend. Pets are not allowed.
The Covered Bridges of Madison County Iowa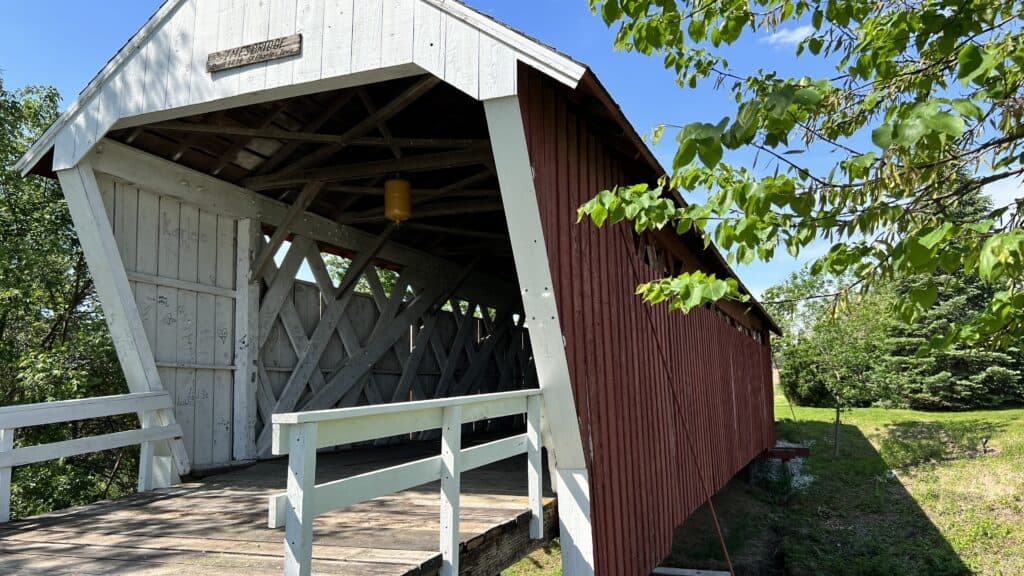 There were once 19 (or perhaps 20) covered bridges in Madison County. All these bridges were constructed in the nineteenth century and covered to protect the expensive flooring timbers, which were not treated at the time.
Six bridges remain today, but only five are the original structures, as the old Cedar Bridge was destroyed by arson in 2002 (and again in 2017). Replicas were built to replace it.
Here are the six bridges of Madison County (listed in alphabetical order):
Cedar Bridge
The original Cedar Bridge was constructed in 1883 by Benson Jones, who built the shortest of Madison County's covered bridges at 76 feet. The bridge was originally located over the North River (then known as Casper Bridge), but it was relocated to Cedar Creek later on.
Unfortunately, the bridge has had a difficult history. It was set on fire in 2002 and rebuilt and reopened (including vehicles) in 2004. However, it was burned down again by arson in April 2017.
We are pleased to announce the Cedar Bridge reopened to pedestrians and vehicles in September 2019, having been closed for over two years and almost completely rebuilt.
A fire suppression system and video cameras have now been added.
Cutler-Donahoe Bridge
Built in 1870 by Eli Cox, the Cutler-Donahoe bridge is 79 feet long and features a pitched roof. Originally located over the North River near Bevington, it was moved to its present site in Winterset's City Park in 1970.
Hogback Bridge
The Hogback Bridge, which is 97 feet long and the northernmost of Madison County's remaining bridges, was constructed in 1884 by Harvey P. Jones and George K. Foster. It was used solely for vehicle passage until 1993 and still stands in its original location today.
Holliwell Bridge
Built in 1880 by Harvey P. Jones and George K. Foster, Holliwell is the longest covered bridge, measuring 122 feet. It remains in its original site over the Middle River southeast of Winterset.
Imes Bridge
Imes Bridge was built in 1870 over the Middle River and is the oldest of the covered bridges in Madison County. The bridge has been moved twice, first to Clanton Creek. Then in 1997, it was renovated and moved to a ravine near St. Charles, where it still sits today.
Roseman Bridge
Harvey P erected the Roseman Bridge (also known as the Oak Grove Bridge) in 1883 over the Middle River. The bridge's main span is 104 feet long (225 feet with the 88 ft. south approach and 33 ft. north approach).
Other Things to do in Madison County, Iowa
There are many more things to see in Madison County besides the covered bridges. The majority of The Bridges of Madison County were shot in the area, so there are several additional film sets to visit.
In addition, there are a few non-Bridges activities to do in the area.
Other Bridges of Madison County Filming Locations
The Northside Cafe (61 West Jefferson Street, Winterset) – This is the cafe where Robert Kincaid meets Lucy Redfield in the film.
Pheasant Run Bar & Grill (103 S John Wayne Drive, Winterset) – The interior shots for the film's fictitious Blue Note Lounge were filmed at this pub. Drinks are served until late in the evening. They're known for their Bloody Marys.
Texaco Station filming Location (John Wayne Drive & Green Street, Winterset) – For the film, a former Conoco gas station became a Texaco station. The site was then converted into a Memory Station gift shop. It is now an Internet provider building when we visited. There's not much to see right now.
Stone Bridge (Winterset City Park) – In Winterset City Park, there is a tiny arch-shaped stone bridge seen in the film when Robert and Francesca go on a picnic.
Middle River Ford (Pammel State Park) –The site of this shallow river is one of the spots where Francesca's children read her diaries in the movie. Winterset, located just southwest of Pammel State Park
Francesca's Farmhouse (3255 130th Street, Cumming, IA) – The Johnson family farm featured in the movie is about 16 miles from Winterset. The house was a 19th-century farmhouse that had been fully reconstructed for the film. The home was accessible for guided visits during the summer, but it was shut to the general public after being damaged by fire in 2003.
More Things to Do in Winterset Iowa
After the release of the best-selling book, more and more visitors flocked to the covered bridges, but Winterset has long been a favorite stop for tourists since it is also where John Wayne was born.
There are several other sites of interest in the region that you may want to explore during your trip.
You can get more ideas from a stop at the St. Charles Welcome Center, but here are some of our suggestions:
John Wayne Birthplace Museum – John Wayne was born in Winterset. The John Wayne Birthplace Museum contains his childhood home and a larger adjacent museum area that covers the life and career of "The Duke." It is the only museum in the world dedicated to John Wayne.
Winterset City Park – The 76-acre city park is a fantastic green space with various interesting features, including a hedge maze, stone bridge, Clark Tower (built-in 1926 as a monument to the county's first pioneer family), and the Cutler-Donahoe Covered Bridge.
Madison County Historical Complex (815 South 2nd Street, Winterset) – The large site includes ancient structures and buildings spread over 18 acres, including the beautiful Bevington-Kaser House, a train station from 1871, and a 19th-century stone barn.
Madison County Courthouse – The courthouse, built in 1876 out of local stone, is one of the most magnificent structures in town. The main square of the town is a nice place to stroll around.
Iowa Quilt Museum –The state of Iowa is well-known for quilting. The Iowa Quilt Museum exhibits permanent and temporary quilts to showcase the history of quilting. Winterset's Ben Franklin store (72 East Court Avenue) is a popular stop for quilting materials.
Montross Pharmacy Soda Fountain – The Montross Pharmacy, which was founded in 1921 and is still family-owned and managed today, sells gifts, everyday items, and merchandise and has an old-fashioned soda fountain.
Local wineries, cideries, and breweries – There are several businesses in the region that produce alcohol including. Madison County Winery, Covered Bridges Winery, Winterset Cidery, Big Rack Brew Haus, and Twisted Vine Brewery. Many of these allow public visits and tastings, and the local beverages can be purchased or tried in the bars and shops in Madison County.